In April 2023 the all new BMW M2 will go on sale for right above $63,000. The M2 still remains as the option for the passionate BMW enthusiast, but it does share a few aspects with its' m-series counterparts. 
PURPOSEFULLY DESIGNED EXTERIOR
Of course, the 2023 M2 was designed in its' 2-door style but this model has grown quite a bit. The overall length and width of the M2 has grown and it sits lower than before. Additionally, its' track width is similar to that of the M4. The curb weight of the M2 has also grown, which it sits between 3814 and 3867 pounds depending on transmission.
With the lines and rear fender designs, this M2 offers a more muscular look. This M2 also features headlights inspired by the iconic 2002 BMWs. The front and rear bumpers offer more flow and creases, making it more aerodynamic and showcases the intakes and exhaust tips more than before.
ANOTHER STEP IN PERFORMANCE
Under the hood of the lightest of the m-series line in 2023 is a 3.0-liter twin-turbo inline-six. This M2 produces 453 horsepower with 406 feet-pound of torque. With this power and vehicle weight, this is an impressive vehicle on the road. As it is detuned from the M3 and M4, a quick tune can make this a true competitor against a large variety of vehicles out there.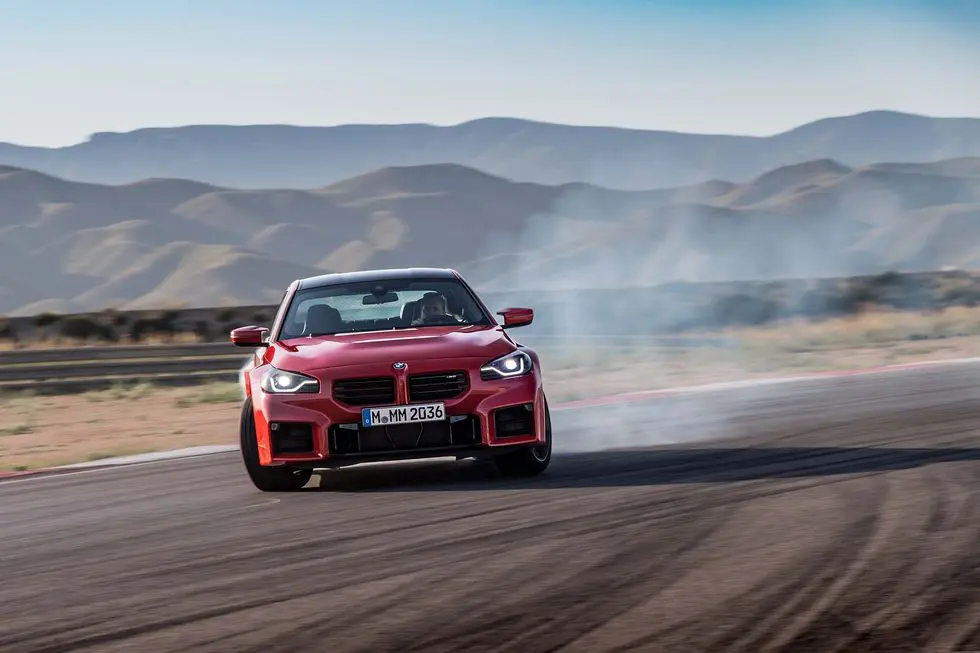 Along with its' astonishing engine specs, the driving features give it the true feeling that BMW is known for. With the 10-setting traction control options, you get to choose how risky you are. But if you get bored of that (somehow), then the M-Series Drift Analyzer will give you yet another adrenaline rush.
AN INTERIOR WORTH NOTICING
The 2023 BMW M2 is not only based around performance, its' interior offers a variety of features that make it a tech based racecar. This M2 offers one large screen which contains a 12.3-inch gauge cluster connected to a 14.9-inch infotainment system. BMW's latest software also offers enhanced voice recognition, cloud navigation, WiFi 5G connectivity, and an optional heads-up display.
Safety features of this BMW also took a step up. From collision detection, lane keeping, and adaptive cruise control, this track beast also has all the safety capabilities needed and more.
BMW took a lot of what us BMW enthusiast hold dear, and made a new creation of it. With a variety of new design features and performance aspects, the all new M2 is a step in a new direction for the makers of the Ultimate Driving Machine.